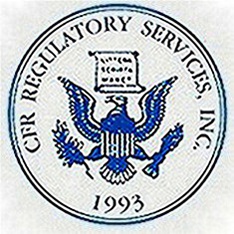 cfr regulatory services, inc.

High Quality, Cost-Effective Compliance Solutions

CFR Regulatory Services, Inc. can help minimize the risks associated with hazardous chemical substances and wastes through its regulatory compliance and management system auditing services. A CFR consultant will make a thorough on-site review of your company's documented policies and procedures, inspect actual operational practices, and then prepare a technical report outlining the strengths and weaknesses of your current management system. The report will further provide recommendations for program improvement.

Copyright 2014 CFR Regulatory Services, Inc.

AUDITING SERVICES

CFR offers several types of auditing services:

• Management Systems Audits (ISO 14001, RC 14001, RCMS, OHSAS 18001, RIOS, R2)
• Client Site Audit: environmental, health & safety, and transportation-related regulatory compliance audits
• Pre-Acquisition Regulatory Compliance Audits
• Vendor Qualification Audits:
- RCRA Hazardous Waste TSDR Facilities
- Solid Waste Landfills & Recycling Facilities
- Carriers/Transporters of Hazardous Materials & Hazardous Wastes